Hyundai Kona
Hyundai has launched its first full electric SUV Kona in india with a price range of rupees 25.30 lakhs (ex-showroom price). Kona electric is the first electric SUV vehicle to sell in India with a range of 425 km in single charge.
The kona electric is powered by a 39KWh battery pack, claimed a range of 452km on a single charge, according to ARAI. It is driven by 100kw electric motor which delivers 395Nm of peak torque, the kona can able to reach 100kmph on it peak torque which allow it to reach 0 – 100kmph in 9.7 second and it can able to reach up to 155 kmph as it top speed.
Key Highlights
8 inch touch screen display
Infotainment support both Android Auto and Apple carplay
Six Airbag
Blind Spot monitoring system
Rear View parking Camera
ABS with EBD
8 Speaker sound system with subwoofer
Heads up display
Ventilated Seat
A portable charger that come with 3-pin socket
7kWh AC wall box Charger
Related Post
Aston Martin Rapide E the first EV from Aston Martin
Hyundai Kona Electric SUV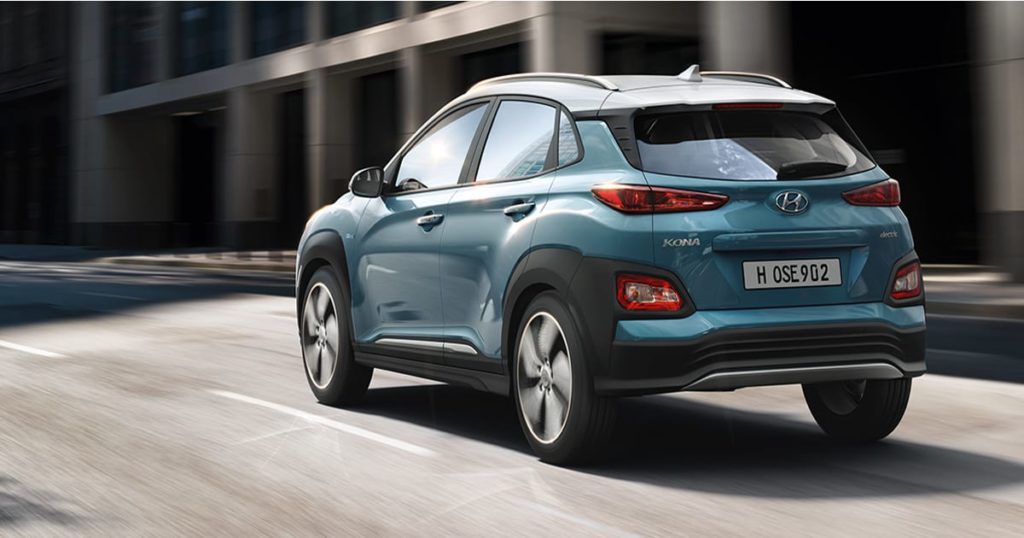 The Hyundai Kona got Lithium-ion polymer battery with Thermal Management system to improve the efficiency and the lifetime of the battery. Thermal Management system of Kona uses water from A/C to cool battery and electric heating element to heat the battery.
The Electric SUV is available in two battery version. The 39.2 kWh version can reach the top speed of 155 km/h with up to 312 km driving range on the WLTP cycle. Similarly the 64 kWh version with a top speed of 167 km/h delivers up to 482 km on the WLTP cycle driving range on a single charge. The 7kWh AC wall box take 6 hours to full charge the vehicle, and able to charge 50km of range in one hour.
The KONA Electric come with various possibilities and plug types for charging depending on the availability of fast charging station or power grid. The SUV also supports portable charger for normal wall socket and an in-cable control box for adaptive charging.
Above all, The SUVs charge time and percentage can be limited with the help of 8 inch touch screen display. Even more the range, battery state and charging times when plugged into the chargers are also displayed.
The SUV comes with four driving modes to choose from Eco, Eco plus, comfort & sport mode. Eco and Eco plus mode for city riding, comfort mode for highway riding and sport mode for better acceleration.
The SUV is also available in five colour schemes. The colors are phantom black, polar white, marina blue, typhoon silver, polar white with black roof. The dual tone colour option is also available at the additional cost of RS 20,000.
Related Post
Blacksmith B2 may launch soon in Indian market
Safety Features
While coming to safety features, Hyundai kona comes with Six airbags, electronic stability control, vehicle stability management, hill-assist control, Isofix and virtual engine sound.
The other safety features includes Forward Collision-avoidance Assist (FCA), Blind-spot Collision Warning (BCW), Rear-Cross Traffic Collision Warning (RCCW) and Lane Keeping Assist (LKA). Similarly, features like High beam and Low beam assist, Driver attention warning and Intelligent speed limit warning are also available.
Related Post
ARC motorcycle debuts at GoodWood festival of speed!
The Hyundai kona in Indian Market
Hyundai is planning to retail the vehicles in 11 cities through 15 dealership with Necessary EV infrastructure and support, and to increase the number by seeing the demand for EV in the market.
Hyundai also planning for fast charging station in all EV dealership , which is DC fast charging system. Which charge the vehicle upto 80% in just 57 minutes. There will be a kona support vehicle to charge the vehicle in emergency cases in selected cities.
Author
– Mathan.K