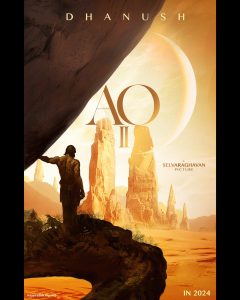 For the past few days, followers of dir Selvaraghavan on social media would have witnessed the tease made for his next project. As a good start of 2021, the tagline "To my loving souls who have heard and waited until this" for AO2 (Ayirathil Oruvan 2) has been announced.
Selvaraghavan is mainly known for his movies Thuluvatho Illamai (துள்ளுவதோ இளமை), Puthupettai, 7g Rainbow Colony, Ayarathil Oruvan. NGK was his last movie that hit the big screen a year ago. Even though he made many successful movies, the release of Baahubali: The Beginning drastically raised the value of "Ayarathil Oruvan" and fans automatically started to shower their love by asking for its sequel.
Ayirathil Oruvan 2
Now, the wait is over and Selvaraghavan had officially announced his next project as the most-awaited and requested sequel "Ayarathil Oruvan 2". The poster was released during new year eve that carries a couple of information about AO2. One of the most versatile actors in Kollywood, actor Dhanush is said to be performing as a lead in this movie. Since 'Mayakam Ena', people are waiting for the top-notch duo of Dhanush and Selvaraghavan on the big screen. Our patience is definitely tested here and we all have to wait longer as the announcement holds commencement of the film will be from 2024. Dhanush's tweet on this project gives us a piece of extra information "A magnum opus !! The pre-production alone will take us a year. But a dream film from the master
@selvaraghavan
! The wait will belong. But we will give our best to make it all worth it. AO2 (Ayirathil Oruvan 2). The Prince returns in 2024″.
THE PRINCE WILL RETURN
Author
– Raghu loganathan