DISNEY'S MASTERPLAN IN INDIAN
The Lion king movie directed by Jonathan Favreau is going to hit the screens on July 19th 2019. After a long time, Indian Hollywood fans are falling eager to watch the Disney's LION KING in their own language.
Disney India had perfectly chosen the Indian celebrities for dubbing in their regional language. It's not just the voice given to the characters. Rather it's the life given to the legendary characters which holds beauty of "The Lion King". Finally Disney's Lion King is definite to hit the screens within two weeks.
In India, Lion King is said to be released in four languages such as English, Tamil, Telugu and Hindi. The image of dubbing cast released by Disney India gives a perfect boost for audience. In the original English version of Lion King Remake, it features the voice of Donald Glover as simba, Beyonce knowles carter as Nala, Chiwetel ejiofor as timing, Alfre woodard as strabismus, John kani as Rafiki, John oliver as Zazu.
Also Read
The Lion king movie in Bollywood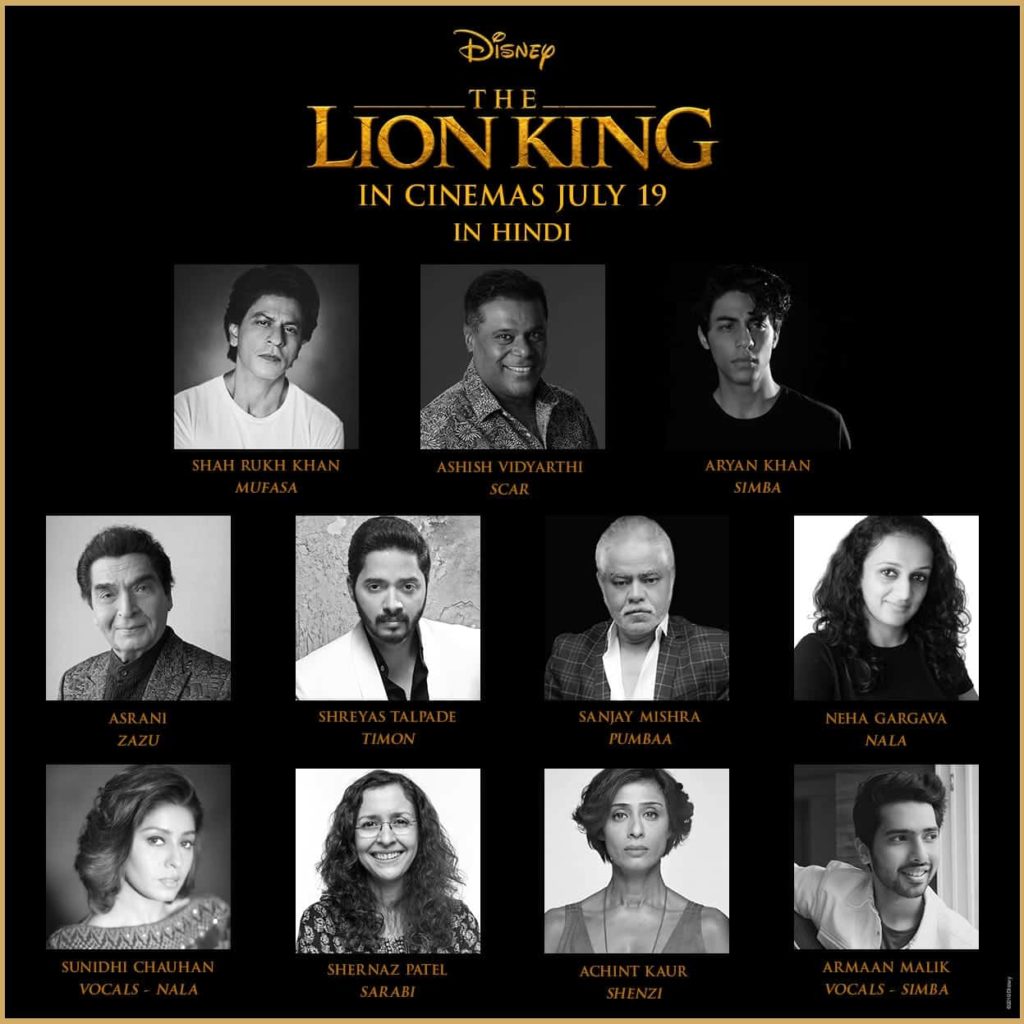 It will be a "DOUBLE SURPRISE FOR HINDI AUDIENCE". As we all know that Shahrukh Khan is mufasa of Bollywood and he also plays mufasa in Hindi Dubbing. Moreover, his son plays the voice of simba. Which makes their fans feel that, there will be an emotional connects between their voices reflecting their visual connect. The most interesting thing is to imagine the voice of Ashish vidyarthi with the visual of scar.
The Lion king movie in Tollywood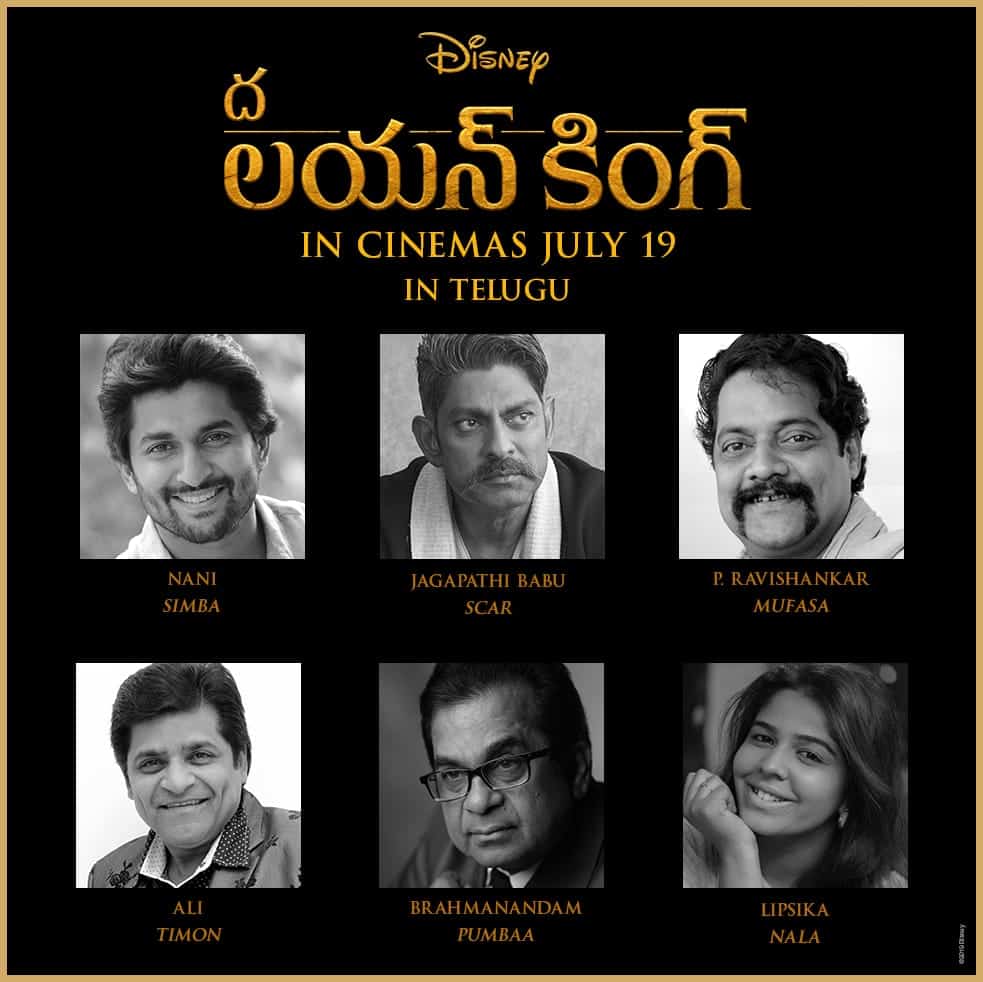 In Tollywood "TELUGU FANS ARE AT PEAK" because of the Telugu star Bank who announced his unique play in the Telugu version of simba. Moreover, it was clearly stated that every character played in Telugu version is 100 percentages suitable to the characters voice. Brahmanandam to play the voice of pumba made Telugu fans to go crazy.
Ultimately in Kollywood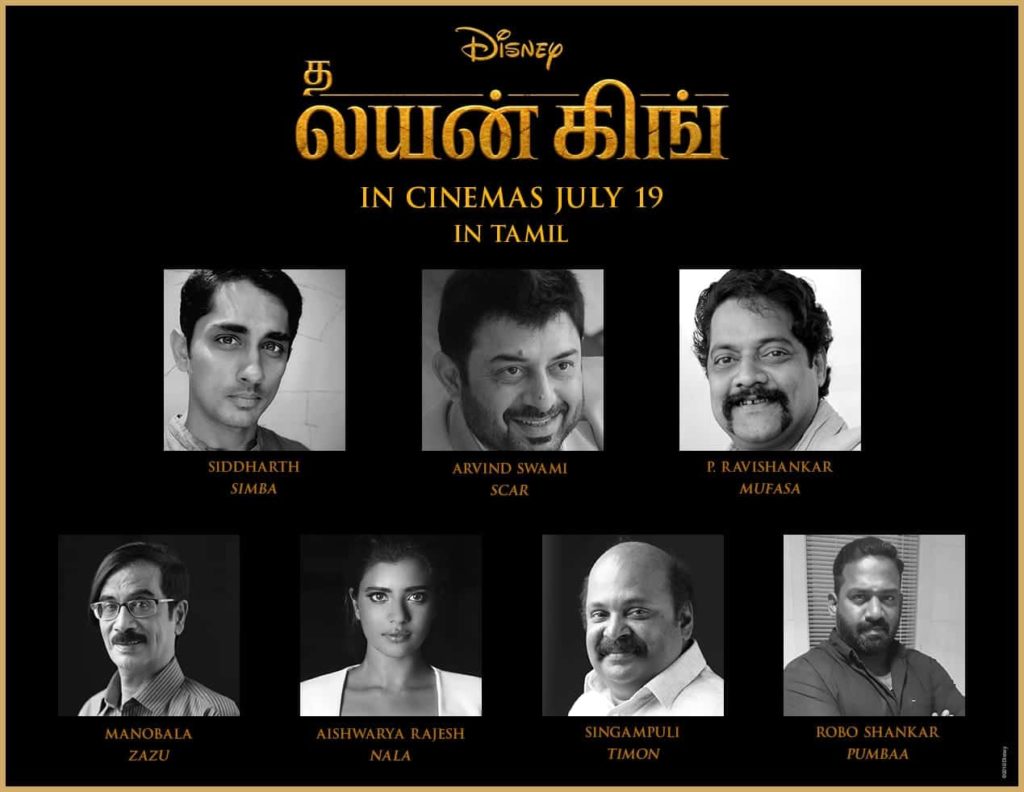 Ultimately, in Kollywood it is "PERFECTLY PACKED FOR TAMIL AUDIENCE" Disney India has roped in leading actors for Tamil industry.
The dubbing for the characters of the Tamil version in Lion King had been official said that, Siddharth as simba, Aravind swamy as scar, Ravishankar is to play for mufasa in both Tamil and Telugu version of The Lion King. Adding to that, some of well-known characters of Kelly wood such as Aishwarya rajesh, Robo shankar, Manobala and Singampuli are playing their roles for Nata, pumba, zazu and Timon respectively.
Author
– Raghu loganathan