Mumbai, June 10, 2019 Eicher Trucks and Buses, part of VE Commercial Vehicles Limited, revealed it's new Eicher Pro 2000 series of Light-Duty Trucks compliant with BS-6 engines. The Pro 2000 series deliver higher Profitability, also loaded with features for enhanced reliability, safety, comfort and efficiency.
Eicher Pro Pro 2000 trucks series is available in two new engine platforms, that delivers fuel efficiency and a range of power option. The Pro 2000 series is compliant with BS-VI emission standard.
The Pro 2000 trucks series comes with 1.8m and 2.0m tiltable cabine configurations. Above all the cabine is equipped with industries first features such as touch-screen infotainment, Bluetooth and telematics connectivity. The cabine also offers a better turning radius along with reduced NVH levels and comfortable driving environment.
The Eicher Pro 2000 seires is equipped with Eicher live, an advanced telematics solution from Eicher for manageing trip, fuel efficiency and uptime range of the vehicle hence the business owners can keep track on their vehicle.
The Eicher Pro 2049 and Eicher Pro 2095XP trucks are the new variants of Eicher 2000 Pro series.
Key features of Eicher Pro 2000 series trucks
1.8m/2.0 m next-gen tiltable cabin
Industry- first 18 cm touchscreen infotainment system with android connectivity, Bluetooth, FM, USB port and card reader
All wheel disc brakes
Larger loading space with Payload of 2.7T/7.2T
Two new Eicher BS VI engines – E474
and E494
Eicher Pro 2049 truck
The Pro 2049 comes with 1.8m tiltable capine configuration. It has a larger loading space with a payload of 2.7T along with Dual mode M-Booster technology.
Key features of Pro 2049 truck
2.7T payload, industry best loading space of 10.4 feet
Best in class mileage with M-Booster technology, all wheel radial tubeless tyres
Fuel Coaching system and Steering mounted car-like controls
1.8m next gen tiltable cabin with improved rigidity and stiffness
Turning Circle Diameter of 10m for easier manoeuvrability
Highest seat travel (180mm) in the industry with lumbar supported seats.
All new 18 cm size Infotainment system with Android one
connectivity with touchscreen, micro SD card, USB, FM, and
Bluetooth
Eicher Pro 2095XP truck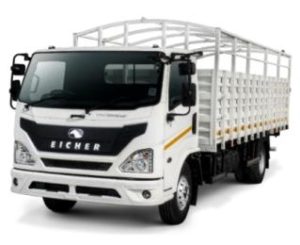 The Pro 2095XP comes with 2.0m tiltable capine configuration. It has a highets payload payload of 7.2T . The Pro 2095XP is available in five cargo body options, which are 14.1, 17.6, 19, 20 and 21.5 feet.
Key features of Pro 2095XP truck
7.2T payload with 5 cargo body options
Highest fuel efficiency in the segment with Dual mode M-Booster technology and 6- Speed gearbox variant
Fuel Coaching- A guiding tool for drivers for more fuel saving
Lowest turnaround time
Eicher Live telematics for trip, fuel and uptime management.
190-litre high density polymer fuel tank for longest mile delivery without stoppage
Superior cabin strength and rigidity Insulated multi-layer carpet for heat
Vinod Aggarwal, MD & CEO, VE Commercial Vehicles said,
"It is a moment of immense pride for us to usher the automotive industry into its next evolution with BS-VI emission technology. We have always believed in investing rigorously in R&D to stay ahead in the industry by improving transportation efficiency and the Pro 2000 series is a testament to that mission. With a strong blend of technology and engineering innovations, we are yet again bringing in a new benchmark for the industry, offering our customers a radically differentiated experience in the CV space. The select models that we unveiled today will be fuelled by our two new BS-VI engine platforms, equipped with all new state of the art cabin and industry first features"
Eicher trucks unveils india's first BS-6 trucks Eicher 2000 Pro series. It's available in two variants Eicher Pro 2049 and Eicher Pro 2095XP.#Eicher #Eichertrucksandbus #Eicher2000Proseries #EicherPro2049 #EicherPro2095XP #BS6truck #BS6https://t.co/79uwEemGXO

— SpecReviewers (@SpecReviewers) June 11, 2019