Well the Tesla's Cybertruck got unveiled at the Tesla Design Studio in Los Angeles on 21 November 2019 setting the internet ablaze with its specs . The Hummer H3 on other hand was released ay back in 2009 as an normal IC engine vehicle which was later transformed into the H3 Electric a plug in vehicle – The batteries are charged externally – with the help of Razor Technology and FEV . The comparision today is how the Tesla's new Cybertruck can hold against an OG Hummer H3 electric , which has a decade apart in release time .
Background (Tesla's Cybertruck and Hummer H3 Electric)
Tesla's Cybertruck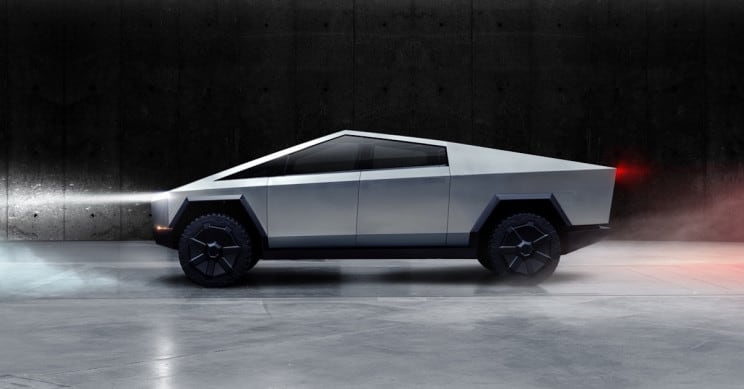 Tesla's Cybertruck is marketed as a LCV or Light Commercial Vehicle and as stated earlier it is the latest inline of Tesla's fully electric green vehicle . It boast a uni-body (Exoskeleton by Tesla) made up of thick 3 mm (1⁄8 in) 30x-series[a] cold-rolled stainless steel body panels . This is type of unibody is predominantly used in cars rather than on a truck .
As of now the truck is said to be having 3 Different Models namely
Single Motor RWD
Double Motor AWD
Tri Motor AWD
All models will have 100 cubic feet (2.8 m3) of storage space, and a 6.5-foot-long (2.0 m) cargo area. As on off-road vehicle, 16 inches (40 cm) of ground clearance is provided, with a 35 degree approach angle, and 28 degree departure angle.
Hummer H3 Electric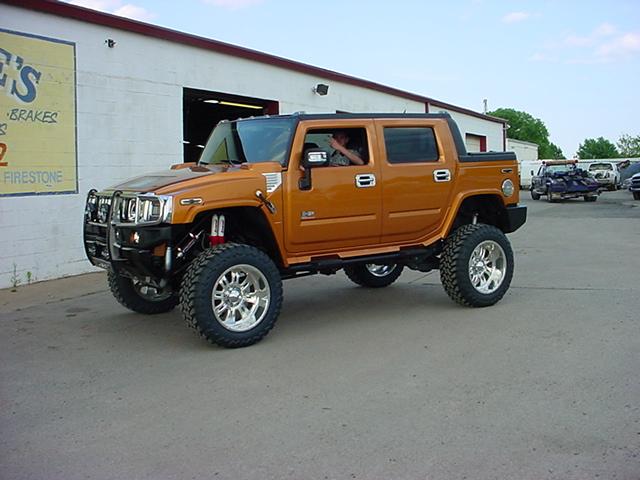 The Hummer is a SUV produced by AM Motors during 1992 to 1998 and General Motors from 1998 to its defunct in 2010 . The vehicle was an hit with off -roaders and SUV lovers but because of its very low fuel economy of 17L/100KM it was criticized and ultimately defunct . The Electric variant was an offshoot of the IC Engine variant with maximum the same properties .
Now For The Spec
Both the vehicles have a decade apart from rolling out of there manufacturing plants , hence there are a lot of major differences between them like the speed output and travelling capacity . But in case of similarities both have been an SUV and has an Sporty look .
Tesla's Cybertruck
The truck max speed varies from 175Km/H to 210 Km/H according to the models
0-60 mph varies from 4.5 sec for the single Motor to 2.9 sec for the top end Tri motor AWD
All the variants have a 3500lbs payload capacity and Towing capacity starting from 7500lbs to 14000lbs depending on the models
The Distance travelled between each refill/ recharge will be 250 Miles to 500 Miles as per the models
The powertrain is similar to the Model S or X with an inductive rear motor and the Model 3's permanent-magnet in front for the medium mode .
The Tesla Model S model has a three-phase, four-pole AC induction 416 hp (310 kW) and 443 ft⋅lb (601 N⋅m) rear-mounted electric motor with copper rotor. The base model uses a 362 hp (270 kW) and 325 ft⋅lb (441 N⋅m) motor. The P100D outputs 588 hp (438 kW) and 920 lb⋅ft (1,247 N⋅m) torque on a dyno.
Hummer H3 Electric
The Hummer hits a top speed of just 40 mph, making it a true "city car."
The motor is a AC brushless system with nine 8-volt batteries, creating the 72 volts needed to power the Hummer.
Hummer H3 Electric has a 72-Volt Electric Drive with Direct Drive Transmission – The motor goes through a direct-drive system – no gears – and straight to the rear wheels(RWD).
Its range is also pretty small, as it can only travel 40 miles on a single charge.
Hummer H3 Electric is a 2-door model, as opposed to the 4-door design of the real Hummer H3. Also, instead of having a boxed-in rear end, it boasts a sloped rear end and a triangular rear window.
PRICING
The most important factor to consider if you aren't Bill Gates or Donald Trump
Tesla's Cybertruck
The basic Model starts from $39900 USD raising to $49900 USD for its secondary model and Topping at $69900 for its top end model
Hummer H3 Electric
The Hummer on other hand has an pocket friendly $25500 USD tag price
Verdict ?
The Tesla's Cybertruck performance is enough to attract an speed freak as this truck can accelerate from 0 to 60 in a short time of 2.9 sec which is totally awesome for an electric vehicle and a truck to achieve . The Hummer is relatively very slow .
Another big flaw for the Tesla's Cybertruck is its rate as I could Buy an 2019 Lamborghini Aventador or a Ferrari 2019 812 Superfast or an Aston Martin DBS Superleggera for the price of Tesla's Cybertruck . The looks aren't worth the money but the performance is more than worth it . At the end of the day you choose a vehicle for its looks ,style and performance. Hummer H3 Electric in the department of money is better but performance and speed is horrible .
Both have an armada of extra accessories to be attached extra .
Taking all these into consideration in my point of view the Tesla's Cybertruck takes the cake as it  has better performance and the pioneer in EV's Tesla to back it up . On the other hand Hummer is defunct and the performance is very lack lustre to its money's worth
For more updates on the Cybertruck and other vehicles be sure to check our site regularly
Author
Krishnamurthy.V.P